ZETTLER Relays – Product announcement, April 2020.
The demand for switching higher currents and higher voltages on increasingly smaller footprint continues to grow, especially in Solar and EV charging applications. ZETTLER is following this trend by introducing its newest type of "New Energy" relays, the 50A AZSR143.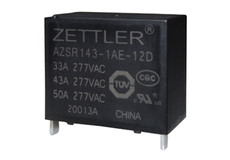 With a footprint of only 30.4mm x 15.9mm the AZSR143 closes the loop between the well-known AZSR131 and AZSR235/250.
The AZSR143 has a maximum UL/TUEV switch rating of 50A@277VAC with 6K cycles. Other ratings are 43A@277VAC (85°C) and 33A@277VAC (105°C) with 30K cycles each and 50A@277VAC carry current (20A switch on/off) with 50K cycles tested. It features a 1.8mm contact gap, a 4500Vrms dielectric strength and a minimum holding power of 196mW.
Mainly designed for solar inverters, the AZSR143 is also well suited for applications in the realm of electric vehicle charging equipment.

For the complete data sheet please go to: AZSR143 series

Innovation in product design is how ZETTLER is leading the field of new energy application solutions. Please also ask us for other relay products in that category, such as the 16/32A AZEV116/132, the 65/90A AZSR165/190 or our 35A AZSR131 as well as our flagship solar relay, the 50A AZSR250.

In addition to relays, ZETTLER Group also manufactures magnetics and transformer components such as current sensors, as well as a broad line of LCD and TFT displays.

For samples and data sheets of these new "New Energy" relays or similar solutions or to discuss the wide variety of application opportunities for the range of ZETTLER Relays, please contact:
ZETTLER electronics, Europe
Junkersstr. 3
82178 Puchheim
Germany
Tel.: +49-89-800-97-140
office@ZETTLERelectronics.com
www.ZETTLERelectronics.com
About ZETTLER electronics
ZETTLER electronics, based in Puchheim (near Munich), is an internationally operating manufacturer and distributor of electromechanical components and assemblies. ZETTLER offers its customers a carefully coordinated product range of relays, magnetics, LCD modules, switches and fans for latest-generation industrial and consumer electronics.